Quail Lakes Office Park is under development on 10 prime acres located in the heart of the dynamic Quail Springs market area. This location boasts strong demographics, excellent commercial support and is one of the most sought after multi-use areas in the Oklahoma City metro. Other major attractions in the area are Chisholm Creek Shopping District, the Penn corridor including all major retailers, Mercy Hospital, St. Anthony Hospital, Gaillardia Country Club, and many restaurants, shops and services. With easy access to the Kilpatrick Turnpike at the May and Penn Ave. exits, Quail Lakes is conveniently located just north of Quail Springs Mall at NW 150th St. & Serenita Ave., a signalized intersection just east of May Ave. on NW 150th St.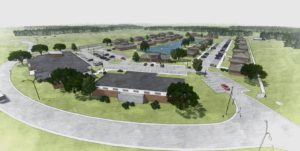 The park is slated to be developed in three phases, surrounding water features in the center of the park, eventually encompassing 14 acres. The main entry will front on Serenita Ave. which extends south from NW 150th St. and links to May Ave. as well. Traffic lights have been installed for convenient access. Platted lots will accommodate 3,500 – 20,000 sq. ft. office buildings with the advantage of shared parking, gorgeous landscaping, well water irrigation, outdoor sitting areas with lake views and other quality amenities.
The first phase of Quail Lakes has commenced with a 20,000 sq. ft. building and 3,500 sq. ft. building. These improvements will immediately set the stage of high quality architectural and landscape design, to be carried throughout each of the phases. Based upon our past experience in office park development, Quail Lakes will soon be recognized by office prospects as a preferred location for their businesses/investment.
Future phases will be improved for building development as the prior phases are filled, and each phase will include covenants requiring similar high quality improvements to ensure continuity. The types of businesses projected for occupancy include professional uses such as education, healthcare, insurance, legal, energy, financial services, sales, corporate offices and many others.
Baker First Commercial Real Estate is a recognized developer of quality commercial properties and will lead the development of Quail Lakes Office Park. Baker First has been developing property throughout central Oklahoma since 1988. Other successful office developments by Baker First include Gran Plaza at Esperanza, Hidden Forest Offices, Penn Pointe Office Park and many other buildings located throughout metro Oklahoma City.
For further information concerning Quail Lakes Office Park, contact Rod Baker, Baker First Commercial Real Estate at 405.947.7200 or visit quaillakesokc.com.